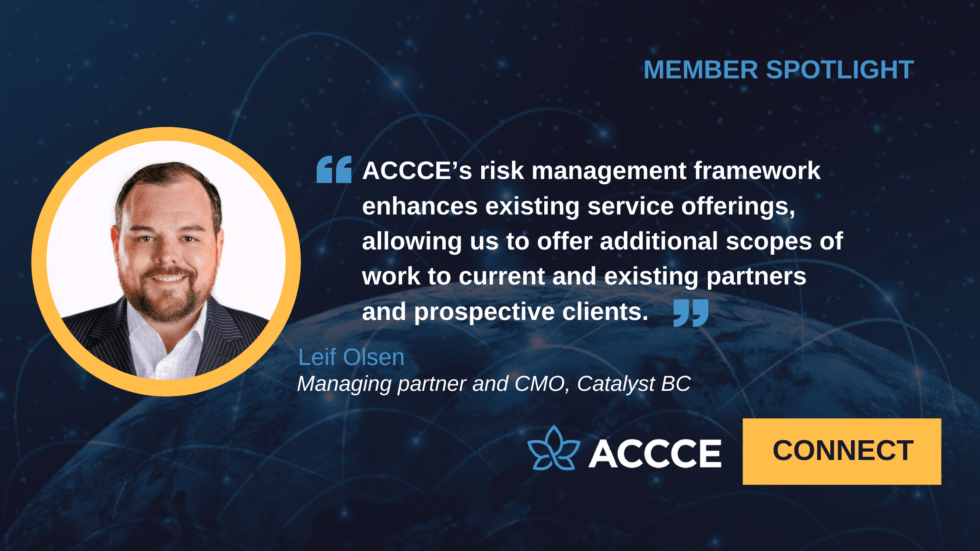 ACCCE Spotlight – Leif Olsen
The key to any association is the people that make up the network. From lawyers and banking professionals, to commercial cannabis business owners and all who fall in between, we are proud of the diverse and expanding network of professionals and experts who are our members. To show our appreciation for the exceptional individuals in our community, we are highlighting Leif Olsen this week. Please reach out and connect with Leif here!
Leif is a cannabis and hemp advisor as the managing partner and CMO for Catalyst BC. This Colorado-based global cannabis consulting and advisement firm specializes in guiding entrepreneurs, investors, and existing businesses in their entry into and successful navigation of the ever-evolving commercial cannabis industry. Leif is ServSafe certified and has over a decade of owner-operator experience working with plant-touching and ancillary businesses in both the public and private sector. He has a Bachelor of Science in marketing from Clemson University, and was the 52nd badged operator under the Colorado Marijuana Enforcement Division in 2010.
In 2008, Leif began his journey as a disgruntled medical patient looking for high-quality, medically focused products and experiences. He set out to create a retail experience that catered to women, seniors, and those in most need of real medical-grade marijuana, Kind Love. Kind Love began to develop and use internal mantras like "good to great" and "99 is not 100" to drive continuous improvement and focus on regulatory compliance. Today, Leif and his team at Catalyst BC leverage their hands-on operational experience and lessons gained to help their clients avoid catastrophic pitfalls and guide them through the gauntlet of funding, designing, building, and operating a profitable cannabis or hemp business; a term they have coined "planning to win". Leif expects to use ACCCE to provide his team with a more comprehensive understanding of the fundamental processes involved in assessing and developing risk management programs. They will combine these strategies and practices with their in-depth knowledge of cannabis operations to better help their clients drive financial performance and mitigate risk.
Leif first heard about the Association of Certified Commercial Cannabis Experts through LinkedIn posts and is studying to become an ACCCE Certified Commercial Cannabis Expert (CCCE). Leif states that risk management is important to his team because one of the primary goals at Catalyst BC is to guide partners away from costly mistakes that can constrain or even cripple an operation. "ACCCE's risk management framework enhances existing service offerings, allowing us to offer additional scopes of work to current and existing partners and prospective clients." Leif knows that, in the commercial cannabis industry, miscalculations, downtime, non-conformance, waste, and other risks can cost businesses millions if not identified and mitigated through planning and controls.
Leif is happily married to his best friend of 15 years, with whom he shares a daughter, Olive. Leif was born and raised in Northern Virginia, spent 13 years in Denver, two years in Santa Cruz, and currently resides with his family in Virginia Beach where they have been welcomed into a fantastic community of compassionate and caring families. Leif is excited to explore upcoming opportunities east of the Mississippi as cannabis businesses continues to evolve and cannabis consumption becomes legalized in more states. As he puts it, "It's great to have opportunities in my back yard again." In his free time, Leif loves living vicariously through his seven-going-on-seventeen-year-old as she takes on new challenges and activities like surfing and skateboarding. He enjoys boating, strength training, collecting art, and has a knack for the culinary arts that has led him to cater events for groups as large as 300 people.
We are proud to have an esteemed member like Leif Olsen in our network. As our community continues to grow, we find it important to thank our members for their commitment to professionalizing the commercial cannabis industry. Thank you, Leif, for being such an important part of the cannabis community. Together, we are a part of something great.
Source: ACCCE